Hello this is my first tutorial. It is based on spy where you will learn the basics and mabye a few tricks you didn't know before.
---
Section 1, Disguise: 1)Good:
Pyro Demoman Sniper(so you have a reason to camp) Engineer(so you can get close to sentries without being suspected) Soldier(most people say its bad but since everyone knows being a pryo, sniper etc is common they wont check soldiers as much)
2)Bad-not gived reasons why just trust me Medic(horrible) scout(horrible) heavy(bad) other spy(bad)
---
Section 2, Tips
1) If you get caught dont push forward cloak and get out of there your no good to your team if your dead.
2) Go after heavies, soldiers, medics, and snipers. (heavy-slow) (soldier-slow) (medic-can make a big difference in game if you dont kill them) (sniper- easy kills)
3) Avoid the pyro like it had small pox. They can reveal you without even trying to catch you on fire.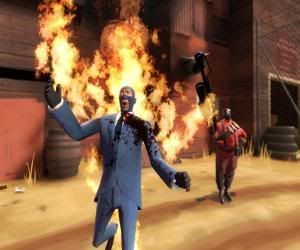 4) Disguse after your cloak or ealse there will be a huge cloud of smoke very visible while running around cloaked.
5) Try not to follow the enemy. Look towards your base so your less suspected. Basicly blend in with the crowd.
---
Section 3, Sentries
1) You have to choices.
A) kill engi then hurry up and sap as fast as you can or
B) Sap then kill engineer.
2) Now if the engineer keeps destroying your sappier or attacks you two more choices appear.
A) Run and cloak
B) Fight back(not recommended)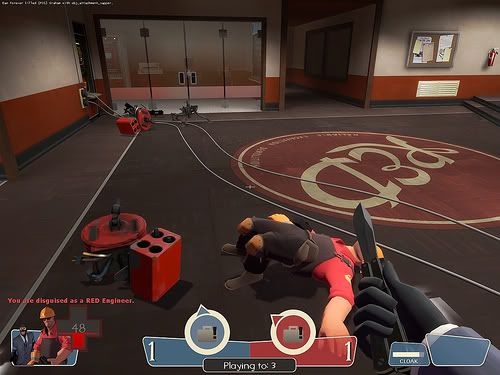 ---
Section 4, Looking for enemy spies
1) This part is optional for a spy. Be only offense or play a little defense as well. Look for your pyros not firing away at people to look for spies. Also make sure they dont follow your other teamates around.
2) Those where both easy now here comes the slightly hard part. If the enemy spy(s) are good and not newbies you have to check for little details. For example if one of your teamates is a soldeir or a heavy and they move the same speed as you waste them. Also if you see a medic not healing just standing there without uber charge under his name hes a spy.
3) When you spot a spy instead of going insane and attacking him wildy alert your team. So they kill him he doesnt know there is a spy on your team(you) so hes less suspecting and he still dies. A win win except for the other spy of course =).
---
Section 5, Where should I.....
1) If your a disgused as a solder,heavy,and scout(NEVER SCOUT but incase you are) dont be running around the enimies base. Be at a choke point(where the fighting goes on) act like your wounded and waiting for a medic. Then when a heavy or something walks by backstab him cloak, run, new disguise.
2) Just because your a pyro doesn't mean people always trust you. I now think pyro's are becoming so overused people are checking them alot. Now back to where they should be. In the enimies base of course looking for spies.
3) Sniper just camps around either choke point or base either seems to work fine for me.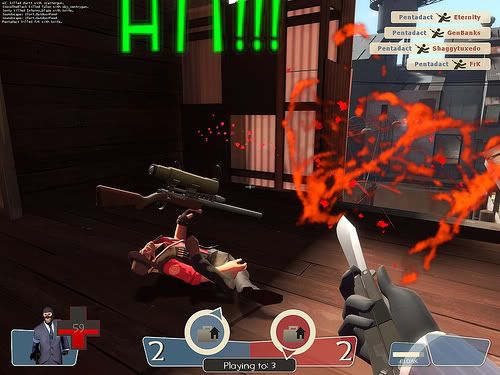 ---
Section 6, Misc
1) Cloak is better than disguise. If you wonder why here is the anwser( Cloak no one can see you thus no one can fire at you to make sure your not a spy)
2) When cloaked dotn bump into people it makes you flash for a secound.
3) Never go into teleports because there will be a trial of your team's colors behind you.
4) Try and make your friendly scouts go after the intelligents(if your doing capture the flag) because your not fast, cant cloak, cant disguise, and your weapons basicly stink without stealh.
5) Revolver does around 30-60 damage.
---
Notes:
Spy rocks I HAVE A PLAYSTATION 3 YOU DONT SPEED UP OR SLOW DOWN WHEN YOU ARE DISGUISED SO DONT TELL ME I WAS WRONG.
thank you