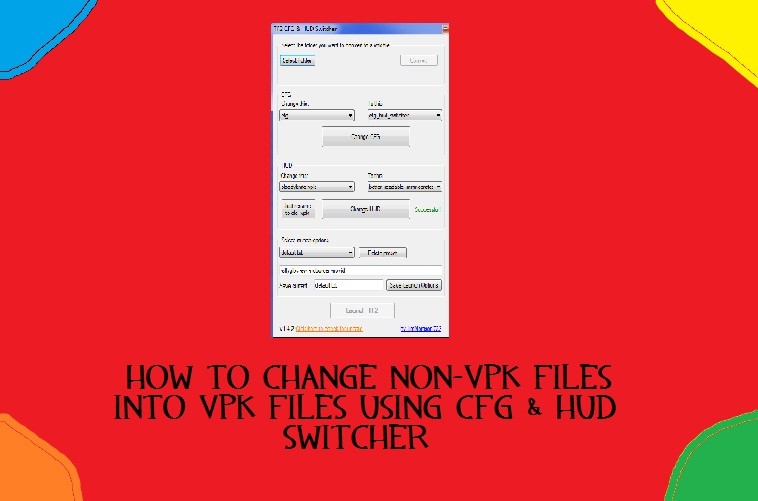 HOW TO CHANGE NON-VPK FILES INTO VPK FILES!
Some skin uploaders have not updated their skins and still have the materials folder version, I will show you how to change those into VPK files with a program called CFG & HUD Switcher! Special thanks to JimMorrion723 for making this program! (NOTE: YOU NEED ONE SKIN THAT YOU DO NOT WANT IN YOUR CUSTOM FOLDER ALREADY FOR THIS TO WORK!)
Step 1: Download CFG & HUD Switcher
Step 2: Open up CFG & HUD Switcher
Step 3: Click "Select Folder" at the top of the window
Step 4: Find the folder that you want converted into a VPK File
Step 5: Click convert!
The VPK file with automatically be created and moved to the "custom" folder in the TF folder!
Step 6: Under HUD, select the list under "Change this" and click any skin that you don't want (You can download one that you don't want if you don't want to get rid of any skins you already have. Also, it has to already be a VPK file)
Step 7: Still under HUD, select the list under "To this" and pick your file that used to be a folder but is now a VPK
Step 8: Click "Change HUD"
Step 9: Click the "Launch TF2" button and enjoy!
(NOTE: SOME SERVERS DO NOT HAVE SKINS ENABLED, THEREFORE, SOME SKINS MAY NOT WORK ON SOME SERVERS. ALTHOUGH, THIS IS VERY RARE!)