This is an aim practice map which I made because my aim sucks. I personally found it useful, so I'm sharing it with you.
You must have at least 25 player slots to play this map correctly Join team BLU
It has a very basic layout, consisting of 3 lanes. In each lane there is 1 bot moving around in a different pattern: the first one moves in a loose and erratic pattern, the middle one moves in a tighter left-right/front-back kinda way and the last one moves left-right but in circles (don't really know how to explain it, you'll see). Each time you kill a bot, another one replaces him instantly (or almost instantly, if you kill them too fast you might have to wait a second or two from time to time :P). You can climb on the walls and on those platforms for various shooting positions and angles. There's also buttons that control a few things, here's a short explanation for them (they are damage activated, so just shoot at them):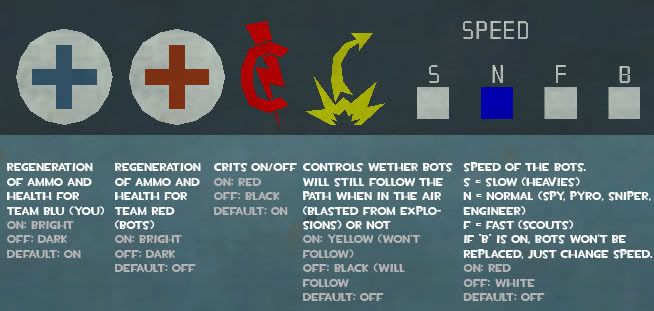 To clarify the speed thing, when you chose a speed the bots are also replaced. So if you chose fast, the normal/slow ones are kicked out and replaced by scouts. If you want to keep the bots and only change their speed, then activate the B (Bot) button, so you can have for example scouts moving at the speed of a heavy or maybe you hate that 1-2 seconds of lag that happens when it replaces the bots. Just don't shoot the same speed button twice... Also don't remove/add any more bots or it will mess up the system. Please tell me what you think and any suggestions for improvement are welcomed. And of course, if it has any problems let me know. Bugs that I know of so far: - sometimes after you kill a bot it may spawn 2 in its place instead of 1, but just kill one of them and it'll be fine.